The risk of attacks on the Electric sector is increasing as supply chain risks and ransomware attacks enable intrusions and disruption to electric utility operations.
Join Dragos Principal Adversary Hunter Pasquale Stirparo, author of the recently-published Global Electric Threat Perspective, on October 26 for highlights from his report and threat research, including:
11 Activity Groups actively targeting the Electric sector
Current threats to operational segments from generation to distribution
Lessons learned from real-world cyber events at electric utilities
Recommendations to protect against specific threat behaviors
Register today to join the live webinar or get the recording sent straight to your inbox. You'll also get access to review Pasquale's full threat perspective.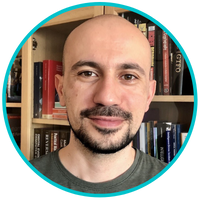 Principal Adversary Hunter
Pasquale Stirparo

Emerging activity groups threatening Electric operations.
Learn more about the eleven AGs targeting electric utility networks during the webinar.

STIBNITE
Infrastructure
Spoofed domains for government & technology entities. Adversary-owned & operated infrastructure. Extensive use of dynamic DNS providers.
ICS Impact
Access development, information gathering, and further operations within electric sector.

TALONITE
Infrastructure
Combinations of adversary-owned and compromised infrastructure. Almost exclusively based in East Asia.
ICS Impact
Operations focus on U.S. electric utilities, initial access information gathering, and further operations within electric sector.

KAMACITE
Infrastructure
Primary focus on compromised infrastructure in Europe. Spoofs legitimate technology and social media services.
ICS Impact
Operations linked to five ICS targeting events. Proven operations leading to disruption. Facilitated the 2015 and 2016 Ukraine power events.