KEY HIGHLIGHTS
2022 ICS/OT CYBERSECURITY YEAR IN REVIEW

FOCUS ON EUROPE
Do you know your threats, and can you benchmark your OT cybersecurity posture?
This report gives you the highlights from Dragos's 6th annual Dragos Year in Review, with a special focus on European cyber threats, to help you stay ahead of cyber attacks and protect your business operations in 2023.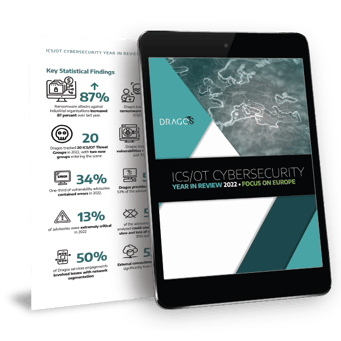 What's Included in the Report

European ICS/OT

cyber

threat landscape
Look back at the significant shifts in the threat landscape that shaped 2022 for ICS/OT operators in Europe.

Threat groups targeting
industries
Review new data on the activities and exploits of the Dragos-tracked Threat Groups targeting industrial infrastructure globally.
ICS/OT e

xploits

& cyber attacks
Read about ICS/OT adversary techniques, malware, and cyber attacks impacting electric, oil & gas, manufacturing sectors and their supply chains.

Findings from incidents & threat hunts
Learn from real incidents, investigations, and threat hunts managed by experienced OT cyber threat analysts and incident responders.

Industrial impact of ransomware in 2022
Get updates on the number of ransomware attacks disrupting industrial operations and what sectors were most affected.

Trends in ICS/OT vulnerabilities
Trace the rapid growth in advisories and vulnerabilities that continue to challenge OT cybersecurity professionals.