INFOGRAPHIC
Everything You Need to Know to Defend Against ICS/OT Cyber Threats in 2023
Each day there are new reports on threats and vulnerabilities in the industrial community. Get a full year's highlights with this infographic summarizing key information from Dragos's annual ICS/OT Cybersecurity report. Learn at a glance what to do to defend against cyber threats this year.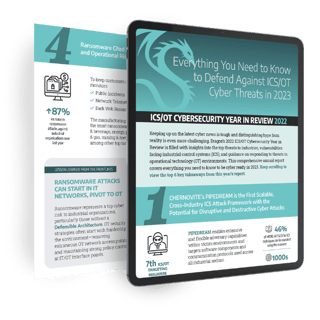 Top threats to industries
Find out what is new and notable across the threat landscape including new ICS malware discoveries and adversary activity in 2022.


How to spot adversaries
Learn what you need to do to identify activity in your environment, and how to avoid it in the first place.
Vulnerabilities in ICS/OT
Get updates on ICS/OT vulnerability research, what has changed since our last report, and what we can expect this year.

Patching & mitigation tips
Follow a risk-based approach to vulnerability management to focus on mitigating against real compromises without needless patching.

Frontline ICS/OT findings
Compare year over-year insights on the adoption of key critical security controls for industrial control systems.

Strengthen your defense
Consider your cyber readiness to identify assets, detect threats, and respond to a compromise in your ICS/OT environment.